Turkey and Syria shaken by new huge earthquakes with more deaths and injuries
The latest earthquake to hit Turkey and Syria claims more lives I told you 2023 would be the year of Un-Natural Disasters, HAARP Was PAT On 8-11-1987 1987 was NOT a leap year so the patent was issued on the 223rd day of the year… "High-frequency Active Auroral Research Program" = 223 (Full Reduction)
Istanbul — The death toll in Turkey and Syria from a new and powerful earthquake that struck Monday, two weeks after devastating temblors killed nearly 45,000 people in the same region, had risen to eight by Tuesday, authorities and media said. Turkey's disaster management authority said six people were killed and 294 others were injured with 18 in critical condition after Monday's 6.4-magnitude quake "earthquake" = 64 (Reverse Single Reduction). In Syria, a woman and a girl died as a result of panic during the earthquake in the provinces of Hama and Tartus, pro-government media outlets said.
The earthquake's epicenter was in the town of Defne, in Turkey's Hatay province, which borders Syria. It was also felt in Jordan, Cyprus, Israel, Lebanon and as far away as Egypt, followed by a second, magnitude 5.8 temblor, and dozens of aftershocks.
Hatay" = 17(Septenary) "haarp" = 
17
(Chaldean) Earth=17, EMP=17, Ritual=17, Kill=17, NATO=17, Biden=17, "Nibiru" = 
17
(Chaldean) I belive they will use Nibiru as a scapegoat when really it is them causing these Events as part of Population Control! Bay area=17 GGB Coming Soon!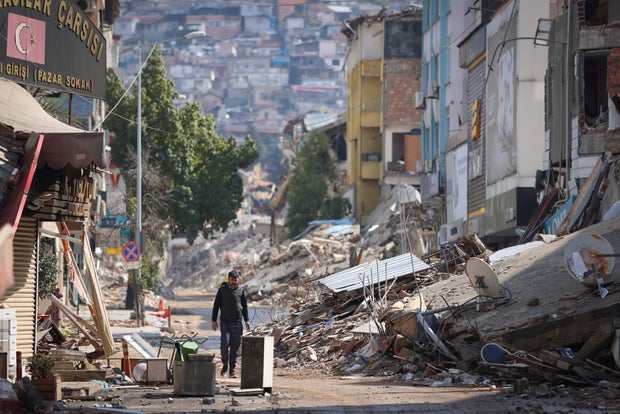 https://www.cbsnews.com/news/earthquake-turkey-syria-death-toll-rises/
Hatay was one of the worst-hit provinces in Turkey in the magnitude 7.8 quake that struck on Feb. 6. Thousands of buildings were destroyed in the province and Monday's quake further damaged buildings. The governor's office in Antakya, Hatay's historic heart, was also damaged.
Officials have warned quake victims to not go into the remains of their homes, but people have done so to retrieve what they can. They were caught up in the new quake.
The majority of deaths in the massive Feb. 6 quake, which was followed by a 7.5 temblor nine hours later, were in Turkey with at least 41,156 people killed. The epicenter was in southern Kahramanmaras province. Authorities said more than 110,000 buildings across 11 quake-hit Turkish provinces were either destroyed or so severely damaged that they need to be torn down.
In government-held Syria, a girl died in the western town of Safita, Al-Watan daily reported while a woman was killed in the central city of Hama that was already affected by the Feb. 6 earthquake, Sham FM radio station said.
The White Helmets, northwest Syria's civil defense organization, said about 190 people suffered different injuries in rebel-held northwest Syria mostly cases or broken bones and bruises. It said that several flimsy buildings collapsed adding that there were no cases in which people were stuck under the rubble.
TommyTruthful Links – https://linktr.ee/tommytruthful
Please Donate to Help the Movement we are Self Funded against this Beast System!
CashApp – http://cash.app/$tommybunzzzzz
Pay Pal – https://www.paypal.com/donate/?hosted_button_id=MZNMTLM7R9TSY